Cascina complete – perfect for groups
Cascina Grassi is particularly well suited for all kinds of groups and we are happy to see it "used" that way – over the years, for example, a group of friends have rented the Cascina exclusively as one large holiday home, families have celebrated "big"anniversaries and marriages,
it served to host Italian psychology seminar groups from Torino, Rome and Milan, a parent-child group, groups of motorcyclists with special culinary interest, groups of Yoga, art and of music.
Cascina complete means you rent the whole Cascina Grassi estate for your holidays or seminar exclusively. Cooking, eating, drinking and lazing around with friends and discovering the region, while being able to be by yourself, unwind and take your space. The Cascina offers ample opportunities for joint activities yet granting privacy for each individual, couple or family.
There are various apartments and studios to split between you, each with separate bath and fully equipped kitchen, so that everyone can be self-sufficient.
Each unit has a small balcony or terrace lounge area, plus there is the major, partly roofed GrassiTerrace, where you can meet and spend time with others.

A large garden for sunbathing with open shower, a seminar room to hold courses, celebrations etc., parking lot, a large kitchen for joint cooking and various possibilities to have joint meals inside and outdoors – all of this will be at your disposal and for your exclusive use.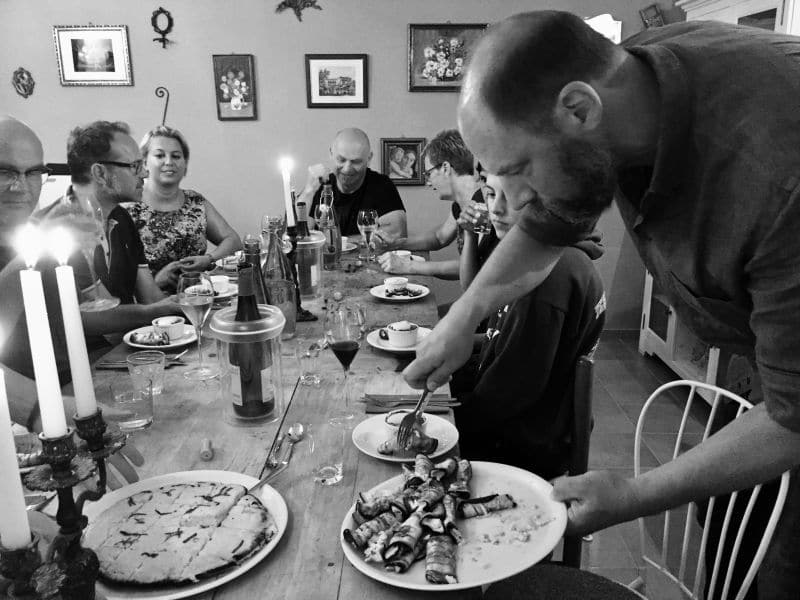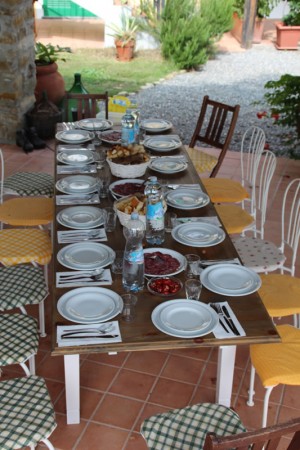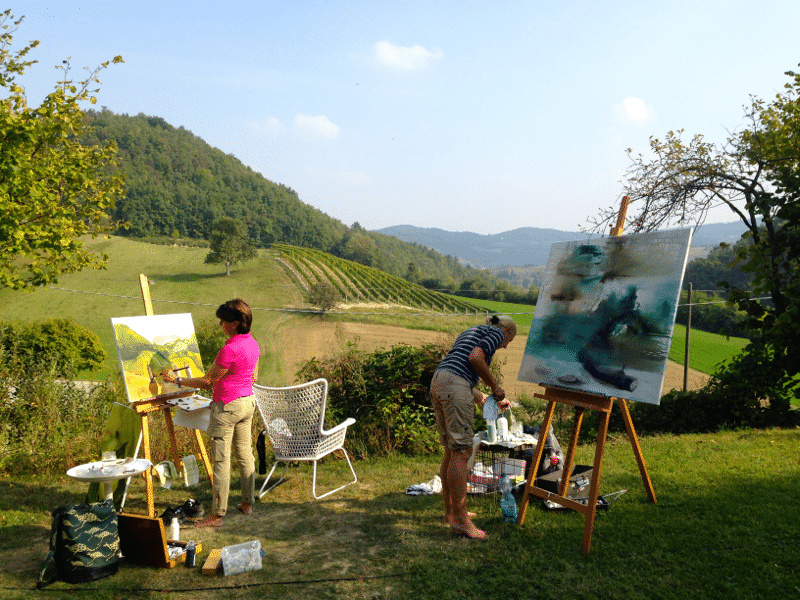 Or else you may plan a family gathering event, where everyone needs their 'own space' but share in the celebrations and other joint activities.
The Cascina Grassi offers you a country estate including a vinyard, orchard, garden and terrace areas for you to exclusively design your holidays, family feast or group activities at your preference.
Farming life, of course, goes on, which means there may be a tractor passing by, work outside and inside the house,
the smell of homemade preserves lingering in the air or a cat strolling by, while we are available for you with advice and support, e.g. reserving a table for you at a restaurant or organzing a 'degustation' (wine and other culinary tastings).

We will also be happy to asisst you with the organization of your courses or events, yoga classes, also available are integrative massage and polarity.
It is your decision for how many people you wish to make an exclusive reservation of the Cascina for. We can accommodate 10 – 20 people in the units we have. A description with pictures you'll find in "Apartments".
There are units sleeping 2 to 4 people and units for 2 people plus – on request – an adjacent, communal kitchen and/or a dining room. In addition, there is a spacious seminar room available for rent.