Cascina Grassi
Regione Grassi 43 14051 Bubbio (AT) Piemont, Italia
Navigation
Coordinates
for navigation system (GoogleEarth):
44° 38′ 28.51" N / 8° 17′ 23.83" E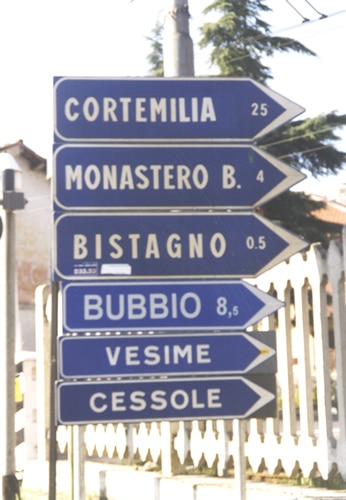 San Gottardo
A5 Karlsruhe/Basel
cross the border at Basel
direction of Lucerne E 35/San Gottardo (weather permitting, taking the road over the Alps is worthwhile)
Lugano E35, passing Bellinzona
after lake Lugano (Lago di Lugano) take the exit -> Varese /Stabio
always follow the signs towards Varese beyond the border crossing at Gaggiolo,
then follow the directions to the motorway, getting on at Gazzada -> direction of Milano
at the interchange take the direction of -> Gravellona T. just before Gravellona T. take another crossing towards A 26 Genoa/Alessandria
on the A26 take the exit -> Alessandria Sud
from there follow the directions to Acqui Terme
in Acqui Terme continue towards Savona up to Bistagno in Bistagno, turn right across the railway tracks (1. signpost to Bubbio) follow the road in Bistagno, taking a strong left turn,
from there keep going towards Bubbio street indications at Bistagnobefore Bubbio center, turn left towards -> Reg. Grassi across the bridge, following the road until you reach a T-junction
turn left and continue until– after approx. 4 min. of high altitude, bended road – you see the old white (school) building -> turn left here;(A26)
on the left hand side is an old cottage and just opposite -> enter the driveway towards CASCINA GRASSI
We look forward to welcoming you at the Grassi Manor! Benvenuti!